Uniwersalny, poliuretanowy uszczelniacz do spoin
Sikaflex® Fix to jednoskładnikowy uniwersalny poliuretanowy uszczelniacz do spoin, który utwardza się pod wpływem wilgoci atmosferycznej. Może być stosowany na różnych podłożach i dobrze się wygładza.  
Łatwy w użyciu
Efektywny kosztowo
Może być malowany
Niekorozyjny
ZALETY PRODUKTU
Łatwy w użyciu
Efektywny kosztowo
Może być malowany
Niekorozyjny
Zastosowanie
Sikaflex® Fix jest uniwersalnym uszczelniaczem spoin do wielu zastosowań w pojazdach. Ma dobrą przyczepność do szerokiej gamy podłoży, takich jak szkło, metal, powłoki malarskie, materiały ceramiczne i tworzywa sztuczne. Należy zasięgnąć porady producenta i wykonać testy na oryginalnych podłożach przed użyciem Sikaflex® Fix na materiałach podatnych na pękanie naprężeniowe. Ten produkt jest przeznaczony tylko dla doświadczonych profesjonalnych użytkowników. Należy przeprowadzić testy dla rzeczywistych podłoży i warunków, aby zapewnić przyczepność i zgodność materiałów.  
Pakowanie
| | |
| --- | --- |
| Kartusz | 300 ml |
| Unipack | 600 ml |
Informacje o produkcie
Typical Product Data
BAZA CHEMICZNA

1-komponentowy poliuretan

Kolor (CQP001-1)

Biały, szary, czarny

Mechanizm utwardzania

Utwardzanie wilgocią z powietrza

Gęstość (nieutwardzony)

zależnie od koloru

1.3 kg/l

Stabilność (non-sag)

Dobra

Temperatura aplikacji

otoczenia

5 ─ 45 °C

Czas naskórkowania (CQP019-1)

40 minut A

Szybkość utwardzania (CQP049-1)

(patrz wykres)

Skurcz (CQP014-1)

5 %

Twardość Shore'a A (CQP023-1 / ISO 48-4)

40

Wytrzymałość na rozciąganie (CQP036-1 / ISO 527)

1.4 MPa

Wydłużenie przy zerwaniu (CQP036-1 / ISO 37)

550 %

Odporność na propagację rozdarcia (CQP045-1 / ISO 34)

7 N/mm

Temperatura użytkowa (CQP513-1)

 

24 godziny

1 godzina

-50 ─ 90 °C

120 °C

140 °C

Czas składowania (CQP081-1)

kartusz / unipack

12 miesięcy B
| | | |
| --- | --- | --- |
| CQP = Corporate Quality Procedure | A) 23 °C / 50 % w.w. | B) składowany poniżej 25 °C |
Informacje techniczne
MECHANIZM UTWARDZANIA
Sikaflex® Fix utwardza się w reakcji z wilgocią atmosferyczną. W niskich temperaturach zawartość wody w powietrzu jest generalnie niższa i proces utwardzania przebiega nieco wolniej (patrz wykres 1).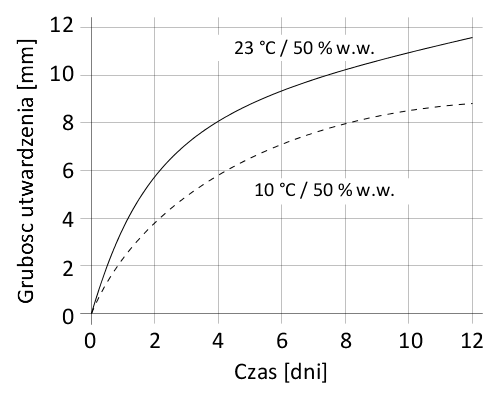 Wykres 1: Szybkość utwardzania Sikaflex® Fix
ODPORNOŚĆ CHEMICZNA
Sikaflex® Fix jest generalnie odporny na zwykłą wodę, wodę morską, rozcieńczone kwasy i rozcieńczone roztwory alkaliczne; czasowo odporny na paliwa, oleje mineralne, tłuszcze i oleje roślinne i zwierzęce; nieodporny na kwasy organiczne, alkohol glikolowy, stężone kwasy mineralne oraz żrące roztwory alkaliczne i rozpuszczalniki.
Zastosowanie
Informacje o aplikacji
Przygotowanie powierzchni
Powierzchnie muszą być czyste, suche i wolne od tłuszczu, oleju i pyłu.
Sposób przygotowania powierzchni zależy od specyfiki podłoży i ma zasadnicze znaczenie dla osiągnięcia długotrwałości połączenia. Sugestie dotyczące sposobu przygotowania powierzchni można znaleźć w aktualnym Przewodniku Przygotowania Powierzchni. Należy mieć na uwadze że sugestie te bazują na dotychczasowym doświadczeniu i muszą być w każdym przypadku sprawdzone na aktualnie używanych podłożach.
Aplikacja
Sikaflex® Fix może być nakładany w temperaturze pomiędzy 5 °C a 45 °C jednak należy mieć na uwadze zmiany w reaktywności i właściwościach aplikacyjnych. Optymalna temperatura podłoża i uszczelniacza zawiera się pomiędzy 15 °C a 25 °C.
Sikaflex® Fix może być nakładany za pomocą ręcznych, pneumatycznych lub elektrycznych pistoletów tłokowych.
Wygładzanie i wykończenie
Wygładzanie musi być wykonane przed upływem czasu naskórkowania uszczelniacza. Rekomendowane jest użycie do wygładzania środka Sika® Tooling Agent N. Inne środki wygładzające muszą być uprzednio przetestowane pod kątem przydatności i kompatybilności.
Usuwanie
Nieutwardzony Sikaflex® Fix można usunąć z narzędzi i sprzętu za pomocą Sika® Remover-208 lub innego odpowiedniego rozpuszczalnika. Po utwardzeniu materiał można usunąć tylko mechanicznie. Ręce i odsłoniętą skórę należy natychmiast umyć za pomocą ręczników do rąk, takich jak Sika® Cleaner-350H lub odpowiedniego przemysłowego środka do czyszczenia rąk, i wody. Nie należy używać rozpuszczalników na skórę!
Malowanie
Sikaflex® Fix można malować po uformowaniu się naskórka. Jeśli farba wymaga procesu wygrzewania, najlepsze rezultaty uzyskuje się, umożliwiając najpierw całkowite utwardzenie się uszczelniacza. Farby oparte na jednoskładnikowym PU lub dwuskładnikowym akrylu są z reguły odpowiednie.Wszystkie farby należy przetestować, przeprowadzając wstępne próby w warunkach produkcyjnych.
Elastyczność farb jest zwykle niższa niż w przypadku uszczelniaczy. Może to prowadzić do pękania warstwy farby w obszarze połączenia.